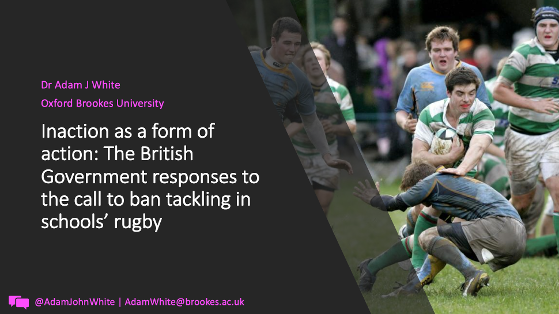 European College of Sport Science: Prague 2019
Inaction as a form of action: The British Government responses to the call to ban tackling in schools' rugby
Presentation date: 04.07.2019, Time: 16:45
Lecture room: Terrace 2B
Session: OP-SH13 Ethical behaviour in sport
In 2016, the Sport Collision Injury Collective called upon the UK Government to remove and ban tackling from school physical education. This call was based upon the premise that tackling in rugby was the leading cause of injury, and particularly injurious in regard to concussion (Archbold et al., 2017). This is particularly worrying, given that rugby is delivered as an often compulsory element of the physical education curriculum for boys. Given that tackling is a structural element of rugby and that the injuries are often severe, this is an unacceptable level of risk for children (White et al., 2018).

This research explores the official responses from government officials to the call to remove and ban tackling from schools, focusing on the discursive mechanisms that they utilised to justify inaction. Government officials conflate the benefit of physical activity with the benefits of sport/rugby, they divert onto other issues (such as physical inactivity), they delay through substandard initiatives, they dismiss the evidence, they defame public health advocates and they devolve themselves of responsibility. This research identifies the mechanisms used to prevent public health intervention in order to reproduce and maintain sporting traditions and structures.
British Sociological Association Sport Study Group Postgraduate Research Forum
Thursday 5th September 2019 | Free
The aim of this year's forum, hosted by Oxford Brookes, is to continue efforts to develop the BSA's postgraduate research community by providing students with the opportunity to appreciate current postgraduate research within sport, health and the social sciences. This conference seeks to explore:
1) how identity related issues (gender, race, ethnicity, disability etc.) can influence involvement in sport;
2) how careers, within sport or otherwise, can be effected by individual relationships with sport, and;
3) how opportunities to engage in or excel at sport are impacted by interventions, programmes and other factors at local, regional and national levels.
This forum is open to any postgraduate student with an interest in sport.
© Copyright Dr Adam John White